Practical software, services and solutions for the small business
and the individual computer user - world wide !
---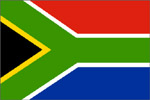 Welcome to our South Africa page ...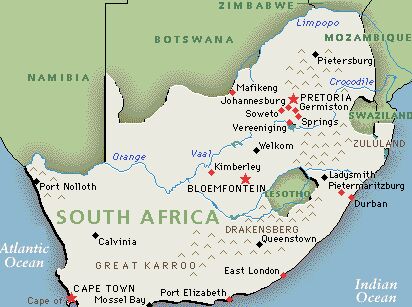 Republik of South Africa, southernmost country of continental Africa, bordered on the north-west by Namibia; on the north by Botswana and Zimbabwe; on the north-east by Mozambique and Swaziland; on the east and south by the Indian Ocean; and on the west by the Atlantic Ocean. The independent country of Lesotho forms an enclave in the eastern part of the country. South Africa has an area of 1,221,037 sq km (471,445 sq mi). The administrative capital of South Africa is Pretoria, the legislative capital is Cape Town.
---
In South Africa universities and other tertiary institutions have shown so far great interest in our applications - esp. as the practical tools for their students are concerned to make better use of the data and information on the Internet.
[ We had a positive reponse rate of more than 50 % after we approached selected tertiary institutions for the first time (this is unique by all standards in marketing - we have only achieved a similar rate in Germany). ]
Certainly - many people are using "download" tools for fast download of whole pages or "extractors" for a range of graphics from a website - but this is a world away from what our applications have to offer: managing individual page content in whatever form for further processing and informtaion retrieval.
We think this difference is most important for users who do serious work on the Internet.
We will report here over time how esp. "MyNet - Anywhere" is used in practice in South Africa. Please bookmark this page and come back from time to time. Thank you.

This page is under construction .... to be continued !

---
Download an information pack about our products ( ~ 290 KB, .doc Word 97 format) from:
---

www.africanconservation.org


We are supporting them by helping to find sponsors for PCs and related hardware / software for conservation and environmental groups in Africa; also for the setup of a training centre in East Africa. Our longterm know-how and experience in the field of practical computing and electronic data processing will also benefit them by providing support and advice over the Internet in the future - esp. for members of their foundation working on the spot.

---
We are using the following resources and recommend to visit these web sites for further information ...

If you have needs going beyond our practical tools we recommend to visit the web site of:

www.kdnuggets.com
KDnuggets is the leading source for Data Mining, Web Mining & Knowledge Discovery on the Internet.
They offer a comprehensive range of software, solutions, jobs, courses, publications,
a company list and web sites related to these subjects.
---
Practical software, services and solutions for the small business
and the individual computer user - world wide !
---